Student fencing brings international flair to The Peak School
The score is a lopsided 4-0 when Mario Santa Cruz tells his students to reset.
"Back in position," says Santa Cruz, a Colorado Mountain School physics professor who moonlights as a fencing instructor in Breckenridge and at The Peak School in Frisco. He's not quite the sort of person you'd peg as the fencing type — if there is such a thing — but he's likely Summit County's top fencing expert. He's been fencing for nearly 35 years and runs The Peak School class like a legitimate training session, beginning with technique and form before launching in to a student-judged tournament.
"Ready?" Santa Cruz points to 12-year-old Cassidy Citron, one of 11 students in the semester-long elective fencing course. She nods, her head covered in the iconic fencing mask of dark mesh. The traditional fencing garb, known simply as a canvas jacket, protects her torso. It's the same white jacket worn by every other student in the course, and Santa Cruz has sizes to fit anyone, from 11-year-olds to 17-year-olds.
---
---
"Ready?" Santa Cruz points to Citron's opponent, 15-year-old Chase Renner, and he also nods. For the past four rounds, his classmate had expertly picked apart his defense, pushing him back onto his heels as she continued to deflect and attack, deflect and attack.
Standing on each side of Citron and Renner were two other students, who together with Santa Cruz judged each round. After two months of class, held two times per week in the school's small rec room, every student has a basic concept of fencing terms and scoring. It fits into The Peak School curriculum: Students learn by doing, not simply reading or watching, and with Santa Cruz at the helm, the fencing students get plenty of hands-on experience — with swords in hand.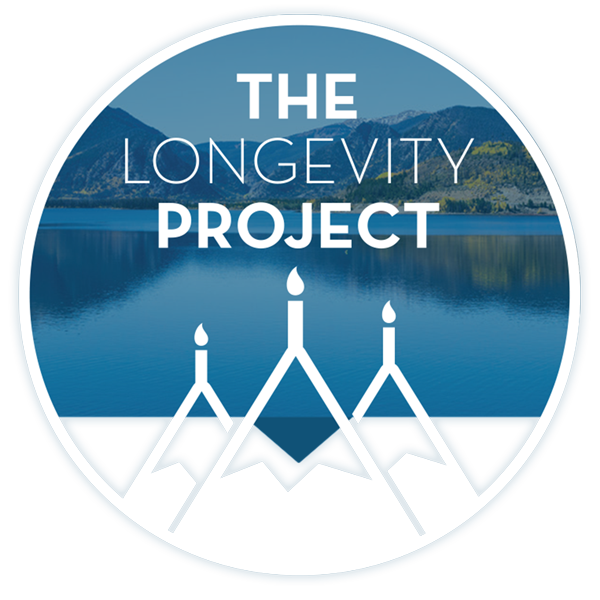 Participate in The Longevity Project
The Longevity Project is an annual campaign to help educate readers about what it takes to live a long, fulfilling life in our valley. This year Kevin shares his story of hope and celebration of life with his presentation Cracked, Not Broken as we explore the critical and relevant topic of mental health.
---
---
"En garde," the instructor says. The two dualists and four judges have a second to prepare, then…
"Allez!" he says, and the round is on. For a beat or two, Cassidy and Citron don't move a muscle, each braced in the starting position: one foot forward and one foot back, with the lead hand and sword held high while the other is braced elegantly behind the back.
Body position is yet another piece of the complex fencing puzzle, and proper form is harder than it looks. Like gymnastics or diving or skiing and snowboarding, it can take a lifetime to master. And, like those sports, it's easy enough for casual observers to nitpick form — a lazy arm here, a bent back there. Let's just say these kids have impressive form, particularly for a group of novices with very little fencing experience before September.
After the brief pause, Renner makes a move, breaking the static in the air. It's the final point of the duel and he's down by four points, so rather than wait for Citron to attack, just as she had the first four rounds, he tests her with a small lunge (the term for a basic offensive attack). The lunge comes with a sword thrust directed at her chest and she counters with a parry (the lunge's defensive counterpart), only to watch her opponent come back with another quick lunge and thrust. She parrys again and is forced to take a step back until she's caught on her heels.
Now Renner has Citron exactly where he wants her. The two exchange twice more before Renner lunges and lands a thrust to his opponent's left shoulder, just barely above the heart. From start to finish the round lasts about 10 seconds, but it's a mentally grueling 10 seconds, something Santa Cruz often refers to as "physical chess."
"And stop," the instructor says shortly after the hit. In rapid-fire fashion, he points from judge to judge for their opinion on the round. Within a second or two, all agree the attack was clean. Renner wins his first point and the duel is now 4-1.
"Now back in position," Santa Cruz says. Time for the next round.
Fencing in the classroom
In the U.S., fencing is hardly a common sport, particularly in schools. There are clubs and college programs, but the majority of students are rarely introduced to the ins and outs of the classic French form. (It's technically a martial art, like karate or jiu jitsu.)
That lack of exposure is exactly why head of school Steve Coleman wanted to introduce the fencing elective this year. The school's curriculum is heavy on world education — there's a global cuisine class happening next door to the rec room — and fencing fits into his philosophy.
"One thing we want to do is internationalize our program — languages, trips abroad, study abroad," Coleman says while watching students practice a coupé, the French term for an indirect attack that's one of hundreds a master fencing students will learn. "This I think is an international sport, not something you usually see in America. It opens horizons to new things, helps them see where their talents lie."
Unlike many stateside sports — football, baseball, basketball — fencing also doesn't champion pure strength or size over finesse. It's a bit subtler than that, and Coleman believes his students are drawn to its unorthodox rhythms.
As he talks, one student approaches another and, in a spot-on European accent, asks, "Madame, would you care to bout?"
"I think it has a romance to it," Coleman says. "It's where the smaller, more agile students can really succeed. I think it's something that all students can do, not just those who are athletically inclined for team sports."
One of the top fencing students is 17-year-old Selah Kreeger, who also acts as Santa Cruz's assistant during class. She knows the instructor through the Breckenridge Fencing Club, held throughout the year at the Breck Rec Center. She joined about a year ago and immediately fell in love.
"I'm still learning something every single time I fence," Kreeger says. "It's not something you learn for a little while, get good at and stop. It's something you can almost never be perfect at, and that's cool."
Plus, there are swords.
"I mean, this is sword fighting," she says before noting that it's also a martial art. "There's something about the art of it that's enamoring, that just makes you want to try it."
Between the club and class, Kreeger has learned about the wide, deep world of fencing. She learned that everyone has a different style, and in order to be one of the best, you must first be confident in your skills, then learn how to counter an attacker who's wildly different.
"After a while, you learn what a flinch means, or what the wrong action does," Kreeger says. "I really enjoyed learning that. It's a mind game as much as a physical game."
The duel point
The duel between Citron and Renner sat at 4-4. In a tie, the mental side truly shines through, particularly when one side manages to come back from a near-defeat.
"En garde," Santa Cruz says, checks to see his judges are ready, and, "Allez!"
With the duel on the line, both students are taking chances. Citron comes out early, pushing Renner back with a quick move, only to see it countered as her opponent makes a quick parry. The two exchange for nearly 15 seconds — the longest of the round — until Renner lands what looks to be a glancing hit to Citron's ribs.
"Was it a hit?" Santa Cruz asks his judges. There's a bit of uncertainty from the Renner side, including one call of no judgment. But, in the end, Santa Cruz overrides the non-call with his verdict: It was clean. As the fifth judge, he can over. Citron seems disappointed, Renner seems relieved, and Santa Cruz has both come to the center for the final salute, part of the tradition.
"Well done," he tells his students, then calls the next two students to the center for the second duel of the afternoon.
"En garde," he says. They salute, don their masks and get into position
---
Support Local Journalism
Support Local Journalism
As a Summit Daily News reader, you make our work possible.
Now more than ever, your financial support is critical to help us keep our communities informed about the evolving coronavirus pandemic and the impact it is having on our residents and businesses. Every contribution, no matter the size, will make a difference.
Your donation will be used exclusively to support quality, local journalism.
---
Start a dialogue, stay on topic and be civil.
If you don't follow the rules, your comment may be deleted.
User Legend:

Moderator

Trusted User
---