Summit County duo takes 2nd at 2016 Elk Mountain Grand Traverse
2016 Elk Mountain Grand Traverse results
Overall winners
1. Gaston-Taam, Aspen (male 26-35) — 6:30:18
2. Thomson-Krar, Crested Butte (male 36-45) — 6:40:56
3. Koons Koons, Snowmass (male 26-35) — 6:55:03
4. Sullivan-Laird, Aspen (male 36-45) — 7:13:42
5. Grant-Glennon, Boulder (male 26-35) — 7:25:35
6. O'Neill-Woerne, Crested Butte (male 46-55) — 7:45:35
7. Plant-Young, Aspen (female 26-35) — 7:46:27
8. LaRochell-Hagen, Breckenridge (female 36-45) — 7:49:39
9. Denny-Newton, Snowmass (male 26-35) — 8:01:54
10. Wiens-Wiens, Gunnison (male 26-35) — 8:04:52
Female winners
1. Plant-Young, Aspen — 7:46:27
2. LaRochell-Hagen, Breckenridge — 7:49:39
3. Kremer-Kirkland, Crested Butte — 8:05:37
4. Ryan-Kimmel, Ridegway — 8:25:30
5. Collins-Layne, Snowmass — 10:07:27
Male winners
1. Gaston-Taam, Aspen — 6:30:18
2. Thomson-Krar, Crested Butte — 6:40:56
3. Koons Koons, Snowmass — 6:55:03
4. Sullivan-Laird, Aspen — 7:13:42
5. Grant-Glennon, Boulder — 7:25:35
How sweet it would've been to take first their first time, but second place is just as serendipitous.
At midnight on March 26, Summit locals Nikki LaRochelle and Eva Hagen set off into the night from the Crested Butte start line with more than 250 other ski mountaineering veterans at the 2016 Elk Mountain Grand Traverse. Less than eight hours later, just as the sun was starting to shimmer over the surrounding peaks, the two crossed the finish line back at the Crested Butte base area ahead of 168 teams (plus another 30 that never finished) to take second place for a female duo and eighth overall at one of the most prestigious — and daunting — skimo races in North America.
Not bad for Grand Traverse rookies.
---
---
"We were really nervous about the weather," LaRochelle said about the hours leading up to the event. "The forecast just didn't look good, but the weather ended up being pretty nice all night. It was snowing lightly, the wind was low, so our strategy was really about staying on top of our eating and drinking."
Nothing is ever simple with skimo racing, and as LaRochelle said, this year's Grand Traverse was no different. It came near the tail end of a two-week storm that left most of the central Rocky Mountains covered in four-plus feet of snow, but organizers still expected to run the traditional 40-mile course from Crested Butte to Aspen, with an estimated elevation gain of 7,800 feet all tackled with headlamps and hardly any support between midnight and the 4 p.m. cutoff time 16 hours later.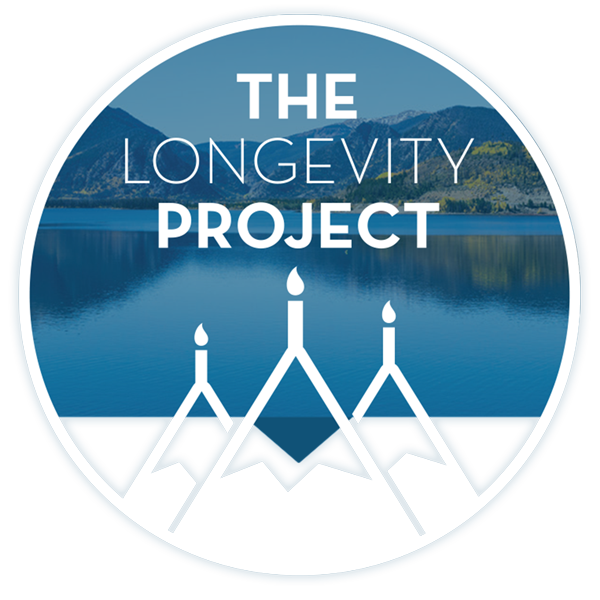 Participate in The Longevity Project
The Longevity Project is an annual campaign to help educate readers about what it takes to live a long, fulfilling life in our valley. This year Kevin shares his story of hope and celebration of life with his presentation Cracked, Not Broken as we explore the critical and relevant topic of mental health.
---
---
Only Mother Nature had other plans. About two hours before the start of the race — after the early-evening athlete meeting and long after teams had a chance to prepare for unknowns — the organizers called an audible and decided to run an alternate course. This new route took teams on a 36-mile trek from Crested Butte to Star Pass in the northeast, where they turned around for a descent to the base of Strand Hill before traversing around the base of Mount Crested Butte for a final burly climb up the ski area to the finish.
"I hadn't done my due diligence and went over the reverse course, so I went into it a little less prepared than I wanted to be," said LaRochelle, whose husband, Brad, has competed at the Grand Traverse for about a decade. "But in the end things were just fine. It wasn't bad at all."
The game plan
Despite the last-minute change, LaRochelle and Hagen felt comfortable enough with their pre-race training to tackle anything the Grand Traverse had in store. Luckily the weather held out, but the mental and physical side of the race is an entirely different beast. Even though the Summit duo passed several teams through the night, including more than a few men, they had little idea of where they sat in the overall scheme of things until about six hours in.
"With a race like this you just have to race your own event," said Hagen, an Austrian native who grew up ski touring with her father in the '60s and admits she hated it, at least when she was a kid. "Nikki and I race well together because I don't talk very much during a race and Nikki is really the same way. It works well for long races like that because we're on the same page, we know we're there to accomplish something."
For most of the race Hagen led the way. The two are frequent finishers at local skimo events — think things like the Arapahoe Basin rando series and statewide COSMIC series — and so the idea of a long trek over variable terrain wasn't an issue. They just had to find a rhythm.
But, again, it wasn't as simple as that. In October, LaRochelle gave birth to her first daughter, Penelope, and followed it with knee surgery in December. She hardly started training until a month or two before the Grand Traverse, and so she relied heavily on her partner to set the pace.
"You can settle into a comfortable pace, and we were cognizant about pushing our pace, keeping it where we wanted," LaRochelle said. "But so much of that race you are by yourself and it's easy to doubt yourself, doubt your speed."
At 3 or 4 a.m., right around the six-hour mark, Hagen let LaRochelle take the lead for a while when she started feeling sick to her stomach. The two had been eating and drinking on a regular schedule, just about every 30 minutes like clockwork, but something just wasn't sitting right.
"For a little bit I said to Nikki, 'Please go ahead,'" Hagen remembered. "I actually didn't want her to know that I was feeling sick. It only lasted a little bit, but after I had the vomit I felt so much better."
Hagen considers her sickness a mistake, just like the transition boot-packing she and LaRochelle did when they couldn't find the top of Strand Hill. But those tiny mishaps weren't enough to break their tempo. With less than 6 or 7 miles to go, the duo could see headlights for the winning female team, Aspen's Jessie Young and Lindsay Plant, tantalizingly close on the horizon.
But close wasn't quite close enough. The Young-Plant duo finished about three minutes ahead of LaRochelle-Hagen — a lifetime in skimo racing.
"We were totally under the radar as a rookie team, and after we came in second the winning ladies said, 'Wow, we had no idea you guys would be so close,'" Hagen said. "Three minutes seems very close, but it's also very far away. You can see them, but we could never quite catch them."
Of course, there's always next year, and you'd better believe the Summit duo will be back to chase that elusive first-place finish.
"It requires some hours of training for sure, and we still weren't sure if it was enough," Hagen said about the 2016 finish. "We thought we trained hard and trained well, but you never know when you go into a new race for the first time. You really don't have a great idea, but we would love to come back and do even better."
---
Support Local Journalism
Support Local Journalism
As a Summit Daily News reader, you make our work possible.
Now more than ever, your financial support is critical to help us keep our communities informed about the evolving coronavirus pandemic and the impact it is having on our residents and businesses. Every contribution, no matter the size, will make a difference.
Your donation will be used exclusively to support quality, local journalism.
---
Start a dialogue, stay on topic and be civil.
If you don't follow the rules, your comment may be deleted.
User Legend:

Moderator

Trusted User
---